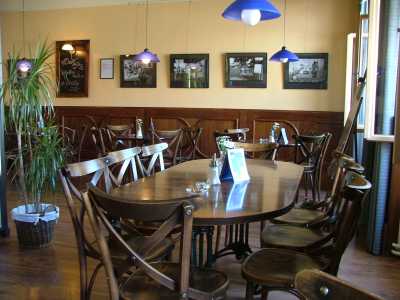 Cafe Au Chat Noir
Above an excellent map and guidebook store on the main square of České Budějovice is the Black Cat cafe, which is my favourite place to go for coffee and cake in South Bohemia's largest city.
Parisian understatement
With not too much effort, you migh be able to imagine yourself in a cafe in a different metropolis. Au chat noir has an understated French theme, and is often frequented by students from the Alliance Francaise, which is in the same building.The cafe also seems to be used as a gallery for photography, and the curve backed wooden chairs, purple lightshades and smooth french music playing in the background give it a warm and stylish air.
Coffee, cake and cigarettes
The entrance to the cafe proper is at the top of a brightly painted staircase that begins down a short corridor near the map shop. The cafe's counter is just inside the entrance and the cosy cream and white room is filled with eight tables, the best of which are the three beneath the windows that overlook the square. In the centre of the room is a cake cabinet, from where you can choose Sacher Dort for 29Kč, Medovnik for 39Kč or any of the cakes of the day. There's enough space for about thirty people, and smoking is allowed in the cafe.
Crepes and galettes
The coffee is Lavazza and an espresso goes for 32Kč. There are also small meals on offer; a variety of baguettes are 45Kč crepes and galettes are 78Kč and the salads are from 80-89Kč. Breakfasts include ham and eggs, omelettes, or an English breakfast of toast, two eggs, grilled tomato and bacon for 42- 55Kč.
To find the Black Cat, you need to head for the corner of the square closest to the Black Tower, or furthest from the town hall. Up on the first floor of the third building from the corner of the square fly two flags; one is the French tricolour and the other a white banner with the silhouette of a long-tailed black cat. Cafe au Chat Noir is open from 9am to 10pm, six days a week.
Cafe au Chat Noir
Náměstí Přemysla Otakara II. 21
České Budějovice