Becherovka museum
It's often said that the 13th spring of Karlovy Vary is it's most popular, and that spring is Becherovka. You'll no doubt come into contact with Becherovka very soon after you enter the country. It's the cinnamony herbal liquor that comes in flat green bottles, is much loved by Czechs, and tastes great with tonic and a squeeze of lemon.
The inside story
If you want to find out the inside story on this mysterious little tipple, the Jan Becher Museum is the place to do it. Becherovka is only manufactured in Karlovy Vary because the local spring water is a vital ingredient. The museum at the factory complex has two entrances signposted as Museum, but the one on the right is the one you want. Tickets are 100Kč for adults, 50Kč for students and include three drinks and a 30Kč discount on Original Becherovka from the factory store.
It's not the kind of museum that you can just wander through at your own pace. There are several guided tours each day and the board in the front window explains which language groups will begin at which time. It's probably worth checking this as soon as you arrive in Karlovy Vary. The museum is close to the bus and train stations and it would be a pity to miss your tour by ten minutes, especially if there's only one in your language each day.
Secret recipe
The tour was quite good, even if the guide that I had forgot the first thing that she was taught at Guide school, which was 'speak clearly'. It's not that she didn't speak English well; just that she was doing it too quickly and running all the words together into one. We started in a small room adjacent to the ticket office. Portraits of six generations of the Becher family hang on the wall and the guide explains that the drink came about in 1805, when apothecary Joseph Becher was visited by an English colleague with a similar passion for blending herbs.
As his visit ended the mysterious Englishman handed Dr Becher a slip of paper with a recipe and after two years of further research and improvement, Becherovka as we know it today was born. Also in this room are display cases of various items connected with the history of the drink, including fake bottles, counterfeit labels and historical equipment for weighing and blending herbs.
Barrel bunker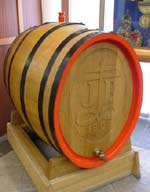 From this room, the tour leads into the bowels of the factory and underground tunnels lined with the dozens and dozens of oak barrels in which the drink is aged for two months before being bottled. The barrels handmade in Moravia (the Czech Republic's wine region) around the turn of the 20th century are still in use. The stainless steel pipes that run just under the ceiling reach a total length of around 9 kilometres (6 miles).

There's a tasting room that resembles an old pub but it's only for important characters like movie stars who visit during the international film festival. Plebs like you and I will taste the three liquors in a larger, more modern room while watching a short video presentation. The video recaps a lot of what you hear during the tour but also has some interesting snippets to add, like footage of the recipe being dug up from its WWII hiding place.

The locals' tipple

Absinthe is popular among foreign tourists wanting to try a local specialty, but if you really want to drink the liquor the locals are drinking, it's slivovice in Moravia and Becherovka in Bohemia. As the guide says "Very big quantity of Becherovka we are drinking by ourselves, because we are caring about our health too much". I'll drink to that.

Becherovka museum
T.G.Masaryka 57
36076 Karlovy Vary
Tel. 359 578156