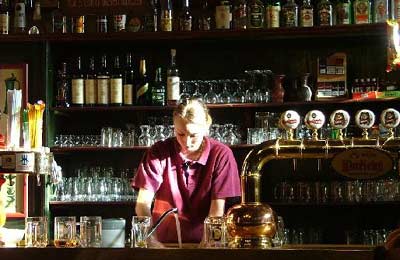 Dačický beerhall
The Dačický beer hall is a popular pub restaurant with something of the atmosphere of a medieval knights' hall. It's not the cheapest place in town, but if you choose carefully from the imaginative menu, it's possible to have a good meal for a decent price. It's also a good place to try the local Dačický beer (light or dark) or the hard to find Primator unpasteurised yeast beer.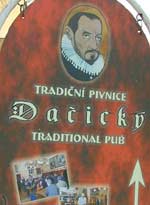 The beer hall is tucked away on Rakova ulice, which is a narrow crooked lane running off Palackeho, the main street leading towards the cathedral from the main square. Dačický is however well signposted (not only above its front door but also with pointers on nearby street corners) and shouldn't be too difficult to find.
Knights' banquet
The main room of the beerhall is the first you'll enter. With an open fire, brick floor, heavy wooden benches and a raucous clash of conversations, this is about as close as you're going to get to a medieval knights' banquet. The painted coats of arms, wall-mounted weapons and flags and the mock renaissance ceiling and cast iron chandelier reinforce the impression and when the menu comes, you might just wonder if you've really stumbled somehow into the 16th century.
Highwaymans' Hotpot
The 'Brewery Rouseabout' is a plate of grilled mixed meats for 139Kc. 'Highwaymans' hotpot' is 299Kc, but is meant to be shared by two people. The Old Bohemian and Moravian specialties section has some of the budget options, with svičkova for 109Kč or goulash for 99. Simple pork and chicken schnitzels are also 99Kč. But you need to add 25 or 30Kč for potato wedges, rice or your choice of other side dishes. If budget is not such an issue, you might try the roast turkey breast for 149Kč or the wild boar in prune sauce for 239Kč.
Alchemy in the kitchen
The Alchemists' kitchen section of the menu is interesting too. Kutná Hora has a history of association with alchemy, since the time of its silver mining heyday, and the country's only alchemy museum is on the main square of town. But what did they eat? Well, 'Venus Rose' is flambé roast beef with seafood morsels, 'Golden fish' is trout with almonds, dates and olives, wrapped in real 23 carat gold leaf and for dessert 'Raspberry Aurum Foliatum' is fruit with whipped cream and more gold leaf. I'm not sure if it was really ever popular to consume gold, but maybe we can ask the curator over at the alchemy museum…?
Cultury in Kutné Hory
Dačický is not only popular with locals, it's also a stop for lots of tour groups and individual travellers. So there are times when the staff get quite busy and might leave you waiting for longer then you'd like. Their own menu also states that they are "the most cultury (sic) and renowned restaurant in Kutná Hora" and you might get a chance to see the grumpy waiters for which the country is also famous.
In any case, especially if you're not in a rush, it's a good and interesting place for a meal or a couple for drinks. There's also a non-smoking room and a small garden area, and the menu is in Czech, English, German and Russian.
Pivnice Dačický
Rakova 8
28401 Kutná Hora
Tel. 327 512248