Hotel/Pension U Kata
U Kata's website lists seven reasons to stay with them. Number 1 was enough for me; they're the cheapest family hotel in the centre of Kutná Hora. I called them to make a reservation and was happy to find that even on the Saturday night of a long weekend, they still had single rooms available.
Easy to find
I didn't have a map when I arrived, but having been to Kutná Hora before, I had a rough idea which part of town they were in and jumped off the bus at the U Divadla (Theatre) bus stop. After a few metres, I saw a sign saying "Hotel u Kata 100m" and after 100m sure enough, there it was, just they way it looks on their website. So if it's easy enough to find without a map, it should be a cinch with. Just get off the bus at and continue on towards the church. Turn left around the corner and in front of you will be the 100m sign.
Off with their heads
U Kata means 'At the Executioner's' and it's a good description of the location. The executioner always lived on the city walls, neither within the city proper nor outside it. And this is where U Kata is, right on the edge of the old town. The main road that goes past the front is the one that rings the old town, and from U Kata's back door, it's less than five minutes to the main square through the narrow cobbled lanes of the old town
Quick, clean and quiet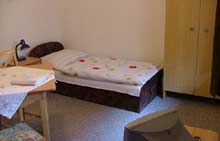 Check in was quick and efficient, the corridors were spotlessly clean and nicely decorated with reproduction woodprints of scenes presumably from Kutná Hora's long history. I had room 14, which is up under the roof and faces the narrow cobbled lane. Being a Saturday night, there was a bit of noise coming from the hotel restaurant downstairs, but I much prefer that to traffic noise and it had all gone quiet by the time I was ready to sleep anyway. For the low price (450Kč for a single room including breakfast) I expected that maybe the showers would be in the hallway, but right inside the door there was my very own bathroom.
Absolute bargain
The bedroom had two single beds, table and chairs, bedside lamp and a television with a remote control that actually functioned. Like the corridors, the room also had quite new wall to wall carpeting. To be honest, I don't know why it's so inexpensive; I've paid almost twice as much for similar rooms elsewhere. I was very happy with my entire stay and thought the price was a bargain.
Executioners' eggs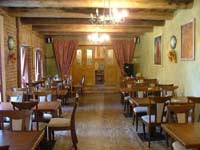 The breakfast was good too; there was a choice between a couple of different egg dishes, pancakes, muesli and the old standby of rolls, ham and cheese. Tea and coffee are included but it's self service, so just jump up and help yourself from the machine. The breakfast room is open to the public as a restaurant at other times of the day, and it looks like the decorators spent some time around at the Dačicky beerhall while they were planning the project. Coats of arms, weapons, heavy wooden furniture and flags almost pull off the knights' banquet hall effect, and at least provide a talking point while you're waiting for your eggs to be scrambled.

Double rooms go for 700Kč and the posted reception hours are from 9am to 7pm, so if you need to arrive late at night, you might want to arrange it with them ahead of time. I've stayed there twice now, and I'll definitely be calling them again next time.
Hotel/Pension U Kata
Uhelná 596
28401 Kutná Hora
Tel. 327 515096