U Černého Orla - The Black Eagle
Hostinec U Černého Orla (or the Black Eagle pub) has the cheapest rooms in the centre of Litomyšl.
I'd asked about accommodation at the tourist information office, and they seemed reluctant to recommend the Black Eagle, so I was a little wary when I arrived there and was inspecting the room. It seemed fine though and at about half the price of anything else in a comparable location, the price was right, so I parted with my 400Kč and settled in.
Beside the pub
The accommodation is actually in the building next door to the pub, which meant that beer-fuelled noise was not the problem it can be with pub rooms that are directly above a bar. My room was at the front of the building on the ground floor with a view out across Božena Němcová street to the rooftops of the houses opposite and downhill.
Simple and clean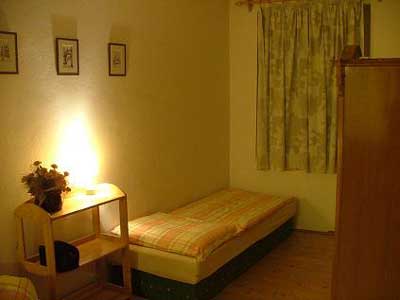 My room was long and narrow, simply furnished with two single beds towards near the front window and a small kitchenette with dining table and chairs at the rear.
The shower and toilet were about ten metres along the corridor at the rear of the building. Possibly this is the reason that room was so inexpensive. Also there was no television or radio, but I hadn't come to Litomyšl to sit around staring at the box, so I personally didn't consider that as a negative point.
Relaxed atmosphere
I saw only one room other than the one that I was in, and I had the impression that the lady who runs the pub looks after the accommodation by herself.
She told me that she wouldn't be coming to clean the room until about 2pm, so I could stay until then, and if I did want to check out sooner, I should just lock both doors behind me and drop the keys into the letterbox.
Summer street noise
With the windows open at night for some fresh air, there was a little noise from the street, but none from inside the building itself. I couldn't tell if the street noise was made by people leaving the pub next door or walking past from elsewhere, but having remembered my earplugs, I soon blocked everything out and drifted off to sleep in the comfortable bed.
It may not suit travellers accustomed to great luxury, but the Black Eagle pub is my first choice for accommodation in the centre of Litomyšl.
Hostinec U Černého Orla
B. Němcové 177,
Tel +420 461615778