Váchal's amazing Portmoneum
The small house at 75 Tereza Nováková street might appear to be just another of the many in Litomyšl that sport descriptive plaques, but its unassuming façade conceals a significant example of independent Czechoslovakian art and a fascinating story of an artist, a collector, their friendship and its demise.
House of Josef Portman
The Portmoneum is the former home of Josef Portman, a native of Litomyšl, who inherited a love of printing, graphic-art and literature from his typographer father. Despite modest means (he was a teacher and librarian) he became an avid collector of original prints and books of the Czechoslovakian avant-garde of the day; especially the verse of poet Otakar Březina and later, the woodcuts and illustrations of Josef Váchal.
Talented artist Josef Váchal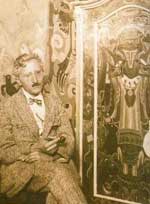 Josef Váchal, as well as being an illustrator, was also an author, woodcarver, creator of typefaces, and a bookbinder.
In the newly-independent Czechoslovakia of the 1920's he was open to a wide spectrum of influences. Art-Nouveau symbolism, northern expressionism (Edvard Munch) and futurism all intertwined with his skills as a craftsman to create a unique style of artistic expression.
Commission of murals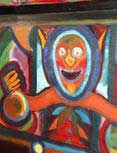 Portman initiated correspondence with Váchal in order to purchase artwork, and after several years the men became friends and Váchal agreed to decorate the interior of Portman's house in Litomyšl. Portman had requests like "with that statue in the alcove, for that 600 crowns, carve out something devilish, grimacing…. let him have glass eyes which could be given a coat of that luminous paint…Just imagine how diabolic it would look in that recess, as if the eyes were glowing".
In small bursts between August 1920 and July 1924, almost the entire interior of the house was covered with Váchal's demons, serpents and monsters.
Breakdown of the friendship
Tensions developed over the work and the friendship suffered further when Portman chose not to purchase a copy of Váchal's new novel; Murder Story, which was set in a thinly disguised Litomyšl (the local town of L.) and featured Portman as one of the main characters (Count Portmon). The last straw for the friendship was when the artist sold a unique and irreplaceable copy of Otakar Březina's verse, which had been lent to him by Portman for illustration.
Intimate museum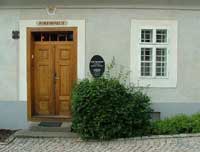 The Portmoneum museum itself is smaller than you might expect from a place of such import; just three rooms and a corridor. The first room houses displays explaining the history of the building and the two main characters in its story, as well as prints and furniture decorated by Váchal.
The next two rooms are decorated with Váchal's murals; walls, window reveals and ceilings; the paintings are primitive and demonic and the claustrophobic effect is something like being in a cave of nightmares.
Reconstructed and opened to the public
After the fall of communism in 1989 the house was in atrocious condition, and after a long and extensive reconstruction it opened in June 1993 to provide a vivid and absorbing glimpse into the avant-garde of Czechoslovakian art in the 1920's. It's now open Tuesday through Sunday from May to September and admission is 40Kč.
Portmoneum
Terézy Novákové 75
57001 Litomyšl
Tel. (+420) 461612020