Litomyšl
Litomyšl is a pretty town with fascinating historic monuments and architecture dating from the 16th century to the present day.
The hilltop renaissance chateau is UNESCO world heritage listed and one of the most important examples of renaissance architecture in Central Europe. It has excellent examples of renaissance arcades and sgraffito, two architectural features typical of the period. The interior is magnificent, but just as interesting are the exterior of the chateau itself and the surrounding grounds and outbuildings.
Father of Czech Music
One of the outbuildings, the former brewery, is the birthplace of the father of modern Czech music, Bedřich Smetana. From his first home town performance at the age of six Smetana grew to become possibly the most influential Czech composer in history. The annual international opera festival is named in his honour, as is the gracefully meandering arcade-lined town square.
Painters and sculptors
Two more prominent personalities connected with Litomyšl are the artist and illustrator Josef Váchal, and Olbram Zoubek, possibly the country's greatest contemporary sculptor. Zoubek's works are displayed publicly around town or in the chateau cellars for a modest admittance fee.
Restored murals by Váchal have been preserved in a house that he decorated for a friend, which is now a museum, or you can sample them for free on the lane leading off the main square which was decorated with terrific reproductions of his nightmarish woodprints.
Churches and the Monastery gardens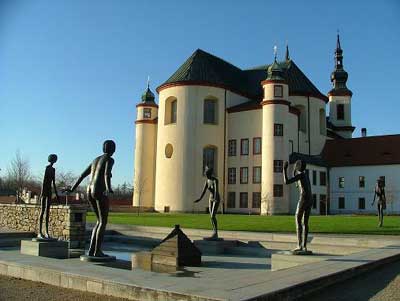 Like any historic town, there's also a smattering of pretty cobbled lanes, leafy squares and at least a couple of impressive churches. Two of Litomyšl's churches are linked by the monastery gardens; a beautiful open area of gardens with an outdoor café, a musical fountain and superb views across the red rooftops of the historic centre.
Restorers' school
Litomyšl is not just focused on the past though; it's also a living Czech town full of energy and activity. There are a lot of students, most notably at the restorer's school which is charged with training the people responsible for preserving the Czech Republic's rich artistic, sculptural and architectural wealth.
And wherever you find students you'll find inexpensive bars and cafes and a rich cultural program and Litomyšl is no exception. The festival season begins in May with the students' week, peaks in June with the Opera festival and continues until the end of September with the traditional village fair.