Main square of Litomyšl
Litomyšl's long, narrow main square is ringed with the arcade-fronted houses typical of renaissance buildings in central Europe.
The square grew up along the old trade road that ran alongside the river beneath the chateau hill. At almost half a kilometre it's possibly the longest square in the Czech lands and is similar in some ways to the famous main square at Telč in Southern Moravia.
Tall, narrow houses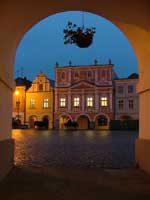 The houses are on narrow gothic plots, but have changed appearance over the centuries until the last major wave of rebuilding that followed the great fire of 1814. As a result, the houses have a gothic ground plan, arcades typical of the renaissance and baroque or classicist facades and plasterwork.
The graceful curved arcades and the rhythm of the architecture along the square mean that that it is majestic when viewed as a whole, but there are also quite a few buildings that are worthy of individual attention.
Old and New town halls
The Old town hall is about halfway along one side and its clock tower is among the main features of the town's skyline. Originally built in 1418 it served as the town hall until 1891 and now houses the town library. To the left (anti-clockwise) on the same side of the square is another former town hall.
It's now quite plain façade is painted in a pale blue and features a window frame with sculptures of Adam and Eve by Olbram Zoubek. (It must have been especially satisfying for Zoubek to see his sculptures erected on the house formerly occupied by the communist authorities). Accompanied by a small stand of trees, the plague column with statues of St Wenceslas and St Jan Nepomucký stands nearby.
House of the Two Knights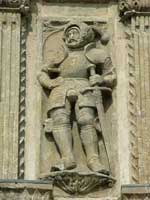 On the other side of the square stands a house that escaped the fires and floods of the centuries with its renaissance appearance intact. The house of the two knights has an elegant and ornate carved stone façade above preserved stone arches, and is the setting for a popular story written by Alois Jirásek, who lived for a time in the house next door.
Further along the same side is a building with a preserved renaissance interior that houses the Paseka bookstore and Pension. The side wall of the building faces Josef Váchal lane and is decorated with scenes from his book Murder Story.
Smetana Statue
As the square nears its end, it widens and several trees stand in echo of those down near the plague column. The square is named for Bedřich Smetana, and it seems fitting that one of the greatest Czech composers should have one of the country's most beautiful squares named in his honour. A statue of him dating from the First Republic (after WWI when Czechoslovakia gained independence and Czech cultural figures came back into public favour) keeps watch over 'his' square.