Restaurant Slunce
Restaurace Slunce is a big old-fashioned beer hall at the Smetana statue end of Litomyšl's long narrow main square.
Smoking and non-smoking rooms
Upon entry, you'll find yourself in a large room with high ceilings. On your right are the coat racks and a couple of doors, one of which leads to the adjoining non-smoking room. On your left will be two rows of tables and booths stretching off towards the bar at the rear. There's enough space for sixty or seventy people and when I visited, it was about half full.
I was there kind of early for dinner so most people were just drinking and it was a mixed crowd. There were ladies gossiping offer coffee, older men arguing about the advantages and disadvantages of the present and former political regimes, and some younger people meeting friends after work for a drink.
Lively pub chatter
Normally I'd head straight for the non-smoking section, but there was a lively atmosphere, so I took a seat near the window and started to check the menu. The waiter was with me in seconds and I ordered a drink, which he brought back almost immediately. I'd been looking forward to fried cheese all afternoon, so I ordered the camembert with ham and tartare sauce (74Kč) and settled back to eavesdrop on the old guys and sip my cola (20Kč/half-litre).
Fast service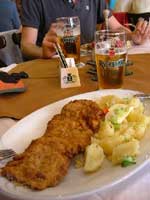 Less than five minutes and the waiter was back with my meal. That was FAST! Czech waiters sometimes have the reputation of being a little slow and more than a little surly. The staff here are certainly NOT contributing to that. I'd asked for the dish on the menu to be changed slightly (to have chips instead of boiled potatoes), and the waiter agreed without hesitation and what's more, managed not to foul it up.
Even when it came time to ask for the bill, the waitress who was passing just pulled out a wallet, tallied it up for me to pay, and it was all over in less than sixty seconds. Often you'll wait a good five minutes while the first waiter passes on the message to their colleague, who then eventually gets around to adding up your bill.
The Czech restorer's school is based in Litomyšl and is highly regarded around the country; perhaps it wouldn't be a bad idea to send some Prague waiters out here for training as well?
Top notch pub food
And the meal? Well, I'd skipped lunch and was looking forward to fried cheese, so perhaps I was going to enjoy whatever they served up, but I thought it was pretty good. The cheese was hot and oozed out appealingly (fried cheese is not so good when it's luke-warm and has started to go hard; it's just a big lump of cheese). The chips (French fries) were crispy, the tartare sauce was tangy, and there was just the right amount of sliced leek as a garnish.
A top notch old-school Czech pub meal!
Restaurant Slunce
Smetanovo náměstí