Olomouc
Olomouc is a great place to visit for lots of reasons...
Ancient capital of Moravia
It's the old capital of Moravia and as such has the largest historic preservation zone outside Prague. There are twelve churches in the centre alone and St Wenceslas cathedral has been Moravia's most important for 900 years. The largest pipe organ in central Europe is in St Moritz church and at St Michael's you can go below ground to see the fresh water spring on which the city was founded. There's also a chapel with a preserved torture chamber in its dungeons, and the UNESCO world heritage listed Holy Trinity Column on the main square is so large that there's a chapel inside it too.
Central Europe's most underrated?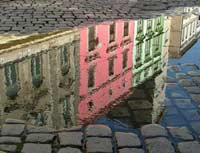 Other highlights are the renaissance town hall that dominates the centre of the main square, the astronomical clock, which is one of only two in the entire country and the series of fountains dotted around the old town. Apart from the outstanding individual buildings the cobbled lanes, squares and courtyards of Olomouc are wonderful to explore. Lonely Planet goes so far as to call the cityscape of Olomouc "possibly Central Europe's most underrated"
Vibrant University town
So it was important in the past, but what's it like now? Well, if you had to describe Olomouc in two words, you'd say "University town". Students come from around the country and the world to study at Olomouc's university and one student for every five citizens is the country's highest percentage. The enthusiastic patronage of the students means that concerts, festivals and other cultural events flourish. In May, June, September and October there are often two or more festivals going on at the same time.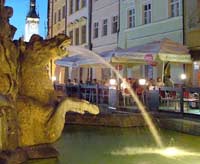 Anywhere with 20,000 university students will have its share of cheap bars, cafes and clubs and there are some great ones in Olomouc. The biggest concerts are held at the university halls, but the jazz club, blues bar and others have regular programs of live music. There are pubs in old stone cellars, cafes in historic buildings and teahouses with lofts. There are stands in the parks and beside the lake and even a bar in an Old Russian aeroplane!
Beer, wine, cheese and chocolate
There are microbreweries serving their own beer, cellars dedicated to Moravian wine, plenty of places to try the local 'stinky' cheese and of course Café 87 with it's signature chocolate pie.
Possibly the best thing about visiting Olomouc is that it's a real living, breathing Czech city. International tourism is still quite young in the Czech Republic and Olomouc is far enough away from Prague and an international airport that lazy travellers haven't discovered it yet. This means you'll pay the prices that locals pay and will probably get a warmer welcome than in places that get trampled by millions of tourists every summer.
And in contrast to those places that do get trampled, there's never been a better time to visit Olomouc than now.