Telč
Telč is a small South Moravian town with arguably the most beautiful main square in the Czech Republic.
Forged in fire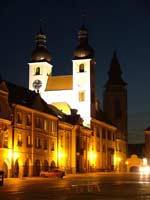 The appearance of Telč dates from the 1500's when the lord of the area, Zachariaš of Hradec, decided to have the town square rebuilt to a uniform plan after a massive fire damaged much of the town. The houses that faced the square all had vaulted arcades added to their fronts, creating a covered walkway around the entire perimeter.
The individual owners built above the new arches, and the result is a remarkable example of an entire town square constructed within a very short time. Zachariaš had brought in artisans and craftsmen from Italy to rebuild his chateau in the newly popular renaissance style and they were responsible also for the reconstruction of the square. In 1992 UNESCO bestowed the results of their labours with protected world heritage status.

Ringed by water
The other striking feature of Telč is the series of interconnected ponds which encircle the centre of town on three sides. While their original purpose of fish-farming has been kept up to the present day, the ponds surrounding Telč are a boon to the local tourist industry, Photographers love the unobstructed views and reflections and an hour or two in a punt or paddleboat on the Štepnický pond is a wonderful addition to anybody's stay in Telč.
Peaceful
Being such a small town, it's probably the wrong place to come if you're looking for pumping nightlife or a huge range of organized entertainment. If you are however the kind of traveller who can make his/her own fun, or you just like the restful atmosphere of Telč and decide to stay awhile, there are quite a few other things to do
A gentle walk along the southern shore of the Staroměstsky pond will bring you to the Church of Our Lady and a little further on there's an old Jewish cemetery hidden behind a high wall.
There are also some interesting places within cycling distance of Telč; Roštejn castle being one. A nice daytrip out of Telč by bus or train is to Slavonice, an even smaller town very close to the Austrian border.
So for either a longer stay or just a short peek at the chateau and main square, Telč is a good place to keep in mind while you're planning your travels in South Moravia.