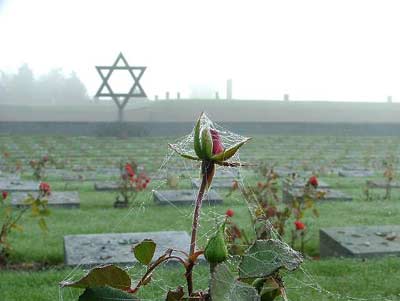 Terezín fortress and Jewish ghetto
Terezín is a red brick baroque fortress that was built in the 18th Century beside the Ohře River north of Prague to help defend the border of the Austro-Hungarian Empire against Prussia. Circumstances meant that the fortress never saw a battle, but it gained notoriety during WWII when it became a Jewish ghetto and prison; better known abroad by its old German name; Theresienstadt.
Baroque Ninja Christmas flowers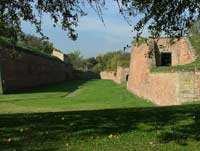 There are two parts to Terezín; the large fortress and small fortress, and from above or on a map they both look like strange many-pointed ninja throwing stars, futuristic geometric flowers, or particularly dangerous Christmas decorations. These sharp angular buildings surrounded by moats represented the height of baroque fortress design. When tensions between Austria and Prussia were resolved, Theresienstadt's smaller fortress became a prison and was considered the toughest in the empire. It's most famous inmate was Gavrilo Princip, the Serb nationalist who shot archduke Franz Ferdinand in Sarajevo and touched off World War One.
Model Jewish ghetto
The other thing that Terezín is known for is its role during WWII. Under Nazi occupation, the large fortress became a ghetto for Jews transported from across the Reich (Austria and Germany) and the protectorate (Bohemia and Moravia). Later it also housed Jews from further afield including Belgium, Holland and Russia.
It was this ghetto that was dressed up to fool the international Red Cross as late as 1944 that Nazi Germany had its Jewish citizens' best interests at heart. International monitors were shown a thriving Jewish community, complete with shops, theatre and music performances, and a limited system of self government. The Jewish actors in this farce were of course performing under duress and were just as likely to end up in the concentration/death camps of Poland as any of their brethren.
Gestapo prison
The small fortress became a Gestapo-run prison, not only for Jews and gypsies, but also political prisoners, resistance fighters and anyone else who didn't fit into Hitler's grand plans. The SS units who staffed the prison were noted for their cruelty and the number of prisoners who died daily of hunger, disease or direct abuse is more than 100. Every day.
Thousands of victims
The other statistics for Terezín are equally as difficult to comprehend. Within three years 87,000 people were sent from Terezín to the concentration camps in Poland. Less than 4000 survived. The ashes of 22,000 people were thrown into the Ohře River at the end of the war, in an attempt by the SS to disguise their activities. At the beginning of the war, Terezín was a town of 7,000 inhabitants, including soldiers stationed there. By the end its population had swelled to almost 58,000. 9,000 people are buried in graves around the fortress and around 35,000 people in total perished in Terezín during the war.
Cemetery and museums
The large and small fortresses are about 10 minutes' walk apart, with the Ohře River and the national cemetery in between. In each fortress is a museum and you can explore the yards, barracks, cells and tunnels of the small fortress either as part of a guided tour or at your own pace. One of the huge barracks buildings within the large fortress is also a museum and a Jewish cemetery, crematorium and columbarium are accessible. Entrance to any one of the monuments is 160Kč, but a combined ticket for everything is only 200Kč so most people choose that. The museums and fortresses are open year round at least from 9am-4pm, and longer in the warmer months.
Transport is easy, with direct buses from Prague roughly once an hour throughout the day. With three museums and two fortresses, most people will run out of emotional reserves before they run out of things to see in Terezín.
While not especially cheerful, it's a good daytrip from Prague, and even if the events and their scale are difficult to comprehend, making the effort is, in itself, worthwhile.