Plzeň
Plzeň is Bohemia's second largest city and the Czech Republic's fourth. About halfway between Prague and Munich in West Bohemia, Plzeň was founded at the end of the 13th Century on the old trade route from Passau to Prague and retains its original Gothic street plan to the present day.
Tallest Gothic church spire
In the middle of the huge open central square stands the Gothic cathedral of St Bartholomew, boasting the tallest church spire in the Czech Republic (102 metres). Lining the edge of the square are some impressive three and four storey town houses including the sgraffito-covered renaissance town hall.
Museums, synagogues, memorials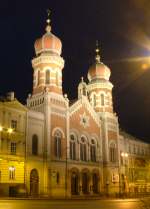 The grid of streets surrounding the square are home to historic attractions such as the brewery museum, the entrance to the Plzeň underground and the Franciscan monastery complex. Just outside the line of the old town walls to the west are the Great synagogue and the fascinating Patton memorial and museum that tells the story of Plzeň and West Bohemia's liberation by American troops at the ends of WWII.
Five rivers of Plzeň
Plzeň is not an especially green city, but outside the historic centre there are five rivers. On a short visit the three names to remember are Radbuza, Mže and Berounka. The Radbuza flows from the Šumava mountains in the south through Plzeň to the north, with the historic old town on the left bank and the train station on the right (eastern) bank. The Mže flows from west to east and joins the Radbuza just north of the city centre. From there the combined waters are named Berounka and flow north past Beroun and Karlštejn castle to join the Vltava on the southern outskirts of Prague.
Original Pilsner beer
Near the junction of the Mže and Radbuza rivers lies the famous Pilsner Urquell brewery, which is the single attraction that draws most international travellers to Plzeň. The city's old German name is Pilsen and here in 1842 bottom fermented lager was brewed in a commercial quantity for the first time ever. This style of beer became so popular that most of the world's beer is now made this way and Plzeň is considered by many to be the birthplace of modern brewing.
Cheers!