Manon cafe and sweetshop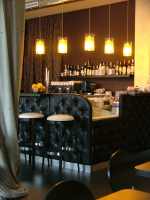 Manon Cafe and Sweetshop is a stylish cafe with three big windows looking down over the main square of České Budějovice.Tucked away on the first floor above a jewellery store at number 7, Cafe Manon is a little difficult to find and this seems to mean that it is more likely to have empty seats when a lot of the other places are full.
Gold framed elegance
The cafe occupies a single large room and has about ten tables with space for about thirty people. The furniture is all in black, white and a deep chocolate brown. With the deep leather upholstery, the chandeliers, richly patterned wallpaper and mirrors in gold frames the interior has a stylish elegance.
Five layers of cake
The five-layered revolving cake cabinet offers raspberry or cherry tortes for 48Kč and a variety of slices for 38Kč. There was nothing about the cakes that made me want to pay such high prices for them, but on the day that I visited there was a two for the price of one offer which would have made all the difference if I hadn't been alone .
Five pages of drinks
My coffee was fabulous and the others on the menu ranged from 29Kč to 45Kč. A range of iced coffees and fresh squeezed juices were available for 45Kč and alcoholic drinks were priced from 30Kč for a shot of Becherovka or Jagermeister and 50Kč for Baileys up to 120Kč for the Hennessy VSOP cognac.
Good friendly service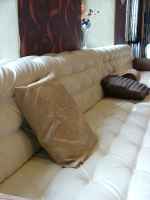 Another thing to like about Cafe Manon is that it offers free Wi-Fi to customers and in my case the waitress offered me the password before I even had to ask for it. The only disappointment was that the music was supplied by the radio, specifically one of those commercial stations with fast talking DJs and trashy dance mix euro pop covers of popular songs from the eighties. A couple of well-chosen and atmospheric CDs would have made all the difference. Portishead would have been perfect.
Still, if you can put up with Hit Parada radio the Manon is a good place to keep in mind to escape the bustle of Budějovice's street level cafes and bars. Manon cafe and sweetshop is open seven days a week. Monday through Saturday from 8am to 10pm and on Sunday from 2 to 10 pm.
Cafe Manon
Náměstí Přemysla Otakara II 7
České Budějovice