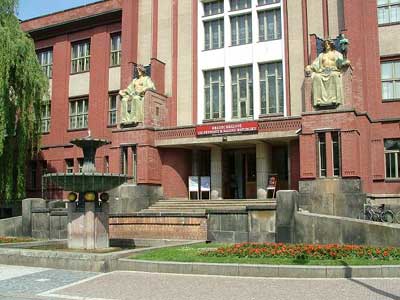 Museum of East Bohemia
The Museum of East Bohemia has been one of Hradec Králové's main cultural institutions and most prominent landmarks since it was completed in 1912.
Entry tickets are available from the desk immediately to your right as you walk in. There are exhibitions on all four floors of the museum and in the basement, and there's a short printed guide available.
Museum as its own greatest exhibit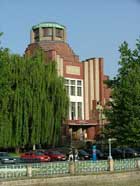 Even if you don't usually visit museums, it's worth going into this one for the sake of the building itself. Built to a plan by master architect Jan Kotěra, the museum is an asymmetrical four storey building of red brick and tan masonry which ushered in a new era in architecture in the Czech lands.
Some scholars go so far as to say it was the first European example of an 'organic ground plan' of the type used most famously by Frank Lloyd Wright in America.
Director's office
On the ground floor the former director's office has been preserved with the original furniture designed by Kotěra. The door is usually kept closed to stabilize the temperature and aid in the preservation of all that old wood and leather, but there's a small, wooden pointer sign in the corridor inviting you to enter.
Foyer fountain
There's a small fountain in the entry foyer, the patterned plasterwork throughout the building is lovely, as is the stained glass, but the highlight of the interior is the hall on the top floor. Directly below the circular skylight, the round alcove houses four glass mosaics, representing the elements air, fire, water and earth.
More original furniture is exhibited in this area and photography is allowed. I was a bit concerned when the attendant called out to me while I was sneaking a photo. But she just wanted to turn the lights on for me.
Temporary and permanent exhibits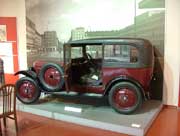 As for the exhibitions, there are both temporary and permanent. The permanent exhibitions cover everything from geology and archaeological finds to historical artefacts, ceramics, metalwork and jewellery including Queen Eliška Pomořanska's gem encrusted belt from the late 1300's. The history of Hradec Králové is covered in detail and the highlight of the exhibitions for me was the huge scale model showing the city during it's time as a baroque fortress.
Temporary exhibitions that I've seen there include one of posters for animated films, a collection of political and propaganda artworks from the communist era and most recently a display of Biedermayer furniture, jewellery and design, down in the basement area. The museum's website has a list of current and upcoming exhibitions, but only in Czech.
Opening hours are Tuesday through Sunday from 9am to 5pm year round. Entry is 50Kč for adults and 20Kč for children or students.
Muzeum Východních Čech v Hradci Králové
Eliščino nábřeží 465
50001 Hradec Králové
Tel. 495 512462