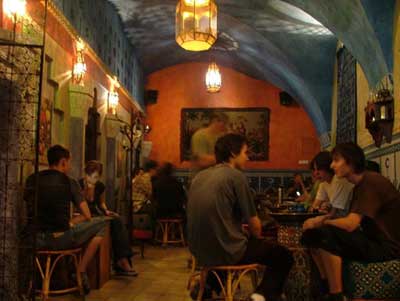 Pilgrims' Teahouse
Čajovna U Poutníka / The Pilgrim's Teahouse is a cosy little place tucked away behind the gothic church and bell tower at the western end of the main square. It's reasonably small, has a welcoming atmosphere with lots of nice touches in the decoration and the staff were putting a lot of care into their work.
Behind the dark blue door is a long, narrow room with the old arched ceiling intact. It's been painted bright blue and decorated with all sorts of Middle Eastern touches; richly embroidered cushions and deep divans line the walls, and small round stools crowd around the six or eight tables. There's probably enough space for about thirty people altogether.
On the night I visited most of them seemed to be students enjoying a relaxing puff of the shisha pipe after a hard week at school. The smoke from shisha pipes is not nearly as sharp as cigarette smoke, but when I was there, I think more people were smoking than drinking the tea and the smoke was the thickest I've ever seen in a teahouse. I was glad to be sitting near the window.
All the usual teas were on offer, with the option for either a 200ml glass or the full 600ml teapot. I ordered a glass of my favourite sweet spicy chai, called 'masala' here, for 25Kč. The full pot would have been 65Kč. I also had some vanilla halva for 20Kč. Both were good and I ended up having a second glass of chai before I was ready to leave.
Most teahouses are afternoon affairs, and this one opens at 2pm on weekdays and 3pm on weekends. Closing time is 10pm during the week, 11pm on Saturdays and 9pm on Sundays. If the door is closed against cold weather, you'll need to pull the lever and ring the old –fashioned brass bell to get in.
There are a lot of teahouses in the Czech Republic, and this is one of the better ones that I've been to. If you like teahouses give the Pilgrim's Teahouse a try. Even if you don't like teas, there are a handful of other drinks on offer and it's a good place to keep in mind for those nights when you don't want to sit around your room but can't face another smoky bar.
Čajovna U Poutníka
Havlíčkova 508
50002 Hradec Králové
Tel. (+420) 495 515487