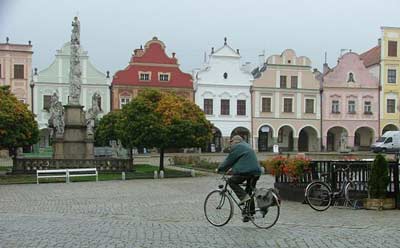 Telč is in the south-central part of the Czech Republic, about 30km from the Austrian border. It's a town of only around 7000 inhabitants, but lies on the main road between České Budějovice and Brno, two of the country's large cities. Telč is a particularly good place to break the long trip between Český Krumlov and Olomouc.
From Český Krumlov (126km), best is to travel by bus with a change in České Budějovice. The better connections make the trip in around 3 hours, including the change of buses at the modern bus station in České Budějovice.
From Olomouc (180km) it's necessary to change buses in Brno. It's about a 3hrs 30mins trip if you don't have to wait too long in Brno.
From Kutná Hora (128km) the train trip takes a little more than 3 hours, with changes at Havličkův Brod and either Jihlava or Kostelec U Jihlavy.
From Prague's Florenc bus station (151km), the trip takes from 2hrs30 to 3hours and you'll probably need to change buses in Jihlava.
From Vienna (185km) there are several routes, the best of which will still involve at least two changes and take up to five hours. From a transport point of view Znojmo, Mikulov and Olomouc are perhaps better first stops from this direction.
In Telč, the bus and train stations are around the corner from each other, about 800m east of the old town square. The walk to the centre is along the straight street that begins at the front door of the train station. There are no lockers at the bus station, but there is a left-luggage office at the train station-enquire at the ticket window if the office is unattended.
If you would like a Taxi, the mobile phone number is 603 255 048.
The tourist information office on the main square (Náměstí Zachariáše z Hradce 10) is thorough and helpful, offers town maps and internet access and can help with all the usual things like accommodation, opening hours and bicycle hire.