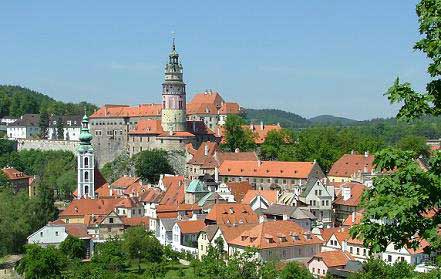 Český Krumlov is 180km south of Prague, close to the Austrian border and the Šumava national park.
From Prague, five direct buses each day cover the 180km to Český Krumlov in about 3hrs. Be careful though, because not all of them leave from the central bus station Florenc.
The public bus company CSAD has departures from Florenc, Na Knížecí which is at the southern exit of the Anděl metro station on the yellow line. and Roztyly metro station, towards the southern end of the red line. The fare is around 150Kč and it's quite normal for the driver to charge a few crowns extra if you're carrying luggage. If you don't mind changing at České Budějovice, there are up to 20 departures by bus and train each day.
The private bus company Student Agency runs four buses a day from Na Knížecí to Český Krumlov and back. The prices range from 150Kč to 180Kč and the trip takes a little less than 3 hours. On Student Agency buses tea, coffee and hot chocolate are served for free; other drinks including beer and a range of juices are available at reasonable prices and there are magazines, newspapers and films to help pass the time.
From Telč best is to travel by bus to České Budějovice and switch there for Český Krumlov. The bus station at Budějovice is modern, well organized and there's a food court inside. The126km trip should take about three hours, including the change of buses.
From Karlovy Vary, you can travel across and change buses in Prague, which takes about 5hrs 30mins if you choose a good connection. The other option is to cut across south-west bohemia via Plzeň. This trip can be done in less than 6hrs, but you'll need to change at least twice and may use a combination of trains and buses.
From Olomouc, the 306 km bus trip via Brno and České Budějovice takes around 7hrs, but passes through Telč, which is an ideal place to break the journey. You can also travel from Olomouc across to Prague by express train then down to Krumlov by bus from there.
Arriving in Český Krumlov is best by bus because the station is just a short walk from the centre of town, and it's obvious which way to go (via the footpath near stand #20). The train station however is a confusing 20-30 minute walk, part of which is down a steep hill. If you do happen to arrive at the train station and want to call a Taxi, the numbers are 380 712712, 380 711711, or 606 710710.