The Gypsy bar
Cikánská Jízba, otherwise known as the Gypsy Bar, is an unassuming little bar tucked away on Dlouhá street between the main square and the castle.
Local beer, local band
As well as the local Eggenberg brew and some top notch pub food, this is also your best chance to hear the distinctive music of the local gypsy band. They don't play every night, but when they are in action, they infuse the bar (and the street immediately outside) with a wonderful energetic atmosphere that may well be the highlight of your time in Krumlov.
Best bar in Krumlov
The gypsy bar is small. The first room has three or four tables along each side and a few stools up the back at the bar. There's also a back room but it's smaller than the front, with two long benches seating twenty people at the most. I'm far from being the only person who thinks this is the best bar in Český Krumlov, so the Gypsy bar can and does fill up. You'll have best luck finding a seat early in the evening before the regulars get settled, and you might consider calling in for a late lunch or early dinner, especially in the warmer months when there are more tourists around.
Gypsy Goulash
If you're planning to eat, the good simple menu offers good solid food. Gypsy goulash and Hungarian goulash call up the flavours of the steppe for 93Kč, and the Halušky (potato pasta with sauerkraut for 83Kč or with meat for 93Kč) might remind you of your travels in Slovakia.
Bohemian culinary traditions are given a nod with the Svičkova and Vepřo-Knedlo-Zeli, both for 115Kč. Don't leave it until Sunday to visit the Gypsy Bar because it's closed all day. On the other six days it's open from 3pm to 11pm (or later if the barman is in the mood).
Old favourites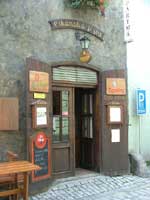 I've eaten there dozens of times and I can honestly say I've never had a bad meal. My favourite is the halušky mix, half meat/half sauerkraut, and I make a point of having it every time I visit Český Krumlov. Even if you call in early and are alone in the bar, the pencil sketches of the regular patrons along the walls will seem like old friends and the straightforward service is refreshing, especially for the town that gets the most tourists outside Prague.
Obviously I'm fond of this little place, so if you'd like to corroborate my undoubtedly biased assessment you can read other reviews of the Gypsy bar here and here. I'm no fan of chain stores, but I wish there were a bar just like Cikánská Jizba in every Czech town.
Cikánská Jizba
Dlouhá 31
Český Krumlov
Tel. 380 717585