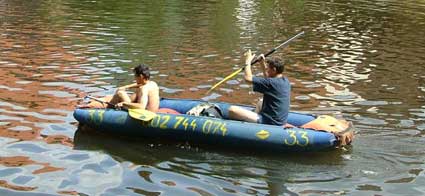 Making a splash in Český Krumlov
One of the best ways you can possibly spend a warm summer afternoon in Český Krumlov is by getting into or onto the river. You'll see plenty of locals swimming and dozens if not hundreds of people in canoes and inflatable rafts. There are several companies that hire canoes, kayaks and inflatable rafts, and some of them also offer transport along the river.
Upstream
The companies will drive you as far upstream as Vyšší Brod, which is a small town with a nice castle. This stretch of the Vltava River is narrow with shallow rapids, and is controlled by five or six concrete weirs of about one metre in height. The weirs have inbuilt ramps designed with canoeing and rafting in mind, but it's important to know whether they're on the left or right side of the river as you approach. Your driver will tell you this before you set off, so make sure you pay attention and if you don't think you can remember it, write it down-It'll be something like "left, left, right, portage, right". When the river approaches the old paper mill at Větřní it gets wider, deeper and slower and lazy paddlers have to start making an effort.
Downstream
If you choose to go downstream towards České Budějovice, you'll board your raft or canoe at Český Krumlov and won't see your driver until you reach your pre-arranged take out point in the afternoon. This part of the river leads through past a number of convenient riverbank pubs and the old monastery town of Zlatá Koruna.
Raft rentals
Maleček boat rentals offer 6-person rafts for 1500Kč per day for the full day trip from Vyšší Brod down to Krumlov, with discounts if you choose one of the shorter trips. The prices quoted by this company include all equipment and maps. Surfsport are slightly cheaper, at 1350Kč per day, and Petr Putzer is much more expensive at 2100Kč per day.
Evening punt cruises
Maleček boats also offer evening cruises around the historic centre of Český Krumlov on wooden rafts. This is a good way to see the town from the water without getting your feet wet (theoretically). The price for this, including the two guides to pole the raft around the town, is usually 280Kč per person, but rises to 390Kč for the peak season in July and August.
Tubing
If all this is a bit rich for your budget or you don't have a full day to commit, some of the backpackers' hostels will also loan their guests old inner tubes. The best thing to do with them is to find the spot where the river almost doubles back on itself, (below restaurant Barbakan and the office of Maleček boat rentals) jump onto your tube there, float around the old town and beneath the castle, climb out near Hotel Mlýn, walk back 100m back to your starting point and repeat until the sun sets or your skin gets waterlogged.
Don't forget the sunscreen.
Surfsport
Kájovská 63
38101 Český Krumlov
Tel. 777 959400
Maleček boat rentals
Rooseveltova 28
38101 Český Krumlov
Tel. 380 712508