Restaurant V Ruthardce
V Ruthardce is an atmospheric little restaurant a stone's throw from the tower of St James' church. The tasty and interesting food is reasonably priced, there's an open fire for the cold months, a shady garden for the warm and they're open seven days a week.
Old school
There are two entrances to Restaurant v Ruthardce. The entrance into the courtyard garden is through a low stone gateway on Ruthardská Ulice, and the front is on Dačického Náměstí. The garden has space for about fifty diners, with six or seven long tables under a big wooden veranda. Another three or four tables are scattered in shady nooks and hidden corners of the garden, which also offers views across the river valley.
The interior of the restaurant has a real air of the past clinging to it. The open fire, the exposed stone walls and the thick timber furnishings all contribute, but there's something about the way the place is run and cared for that has a classic old-time style to it as well.
Shady garden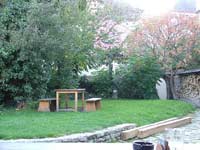 If you've chosen a seat in the garden, your surroundings are a clue to the standard of the food. There's nothing fancy about the garden, but the fruit trees, vines and flowers are all flourishing no doubt due to the care lavished on them by the owners, who were busy carrying around bags of mulch and checking that potted plants had enough water. If you believe the old saying that good gardeners make good cooks, you'll be feeling pretty happy about your choice of restaurants when you sit down here.
Basil, tarragon and cranberries
A chalkboard displaying the most popular drinks informs that large glasses of Budvar are 25Kč no matter whether you choose the 12 degree, dark or half dark/half light. Kofola soft drink is 20Kč for 400Ml. When the menu comes, you'll see that the meals here are around half the price of those at many other places in Kutná Hora, including the restaurant of the Hotel U Hrnčíře, just next door.
Fried camembert cheese with fresh cranberries is 60Kč, a pork cutlet in tarragon butter is 105Kč and a 200g skewer of pork, bacon and onion goes for 120Kč. Some of the more unusual things on this menu are 200g of frogs' legs for 110Kč, 6 large snails for 120 or the mammoth 950g mixed grill for 330Kc. The mixed grill is surely meant for several people, so I chose the chicken in herb butter for 105Kč, and a side order of potato wedges. Delicious!
I feel quite lucky that I stumbled into V Ruthardce. The garden and building were lovely, the waiter was prompt and pleasant, and I'm definitely eating there again next time I'm in Kutná Hora.
Restaurant v Ruthardce
Dačického n áměstí 15
Kutná Hora
Tel. 602 481707