Lost and Found Restaurant
If you're looking for good value hearty food in a smoke free atmosphere, this little restaurant on Široká ulice may be just the place for you.

200m from the square
The easiest way to find it from the main square of Liberec is to follow the steep cobbled lane Lazebnicky Vrch, which leaves from just off the south west corner of the square, near the Jo-Bio health food store.
This is not Liberec's prettiest street and its not terribly well lit at night, but during the day it takes you almost directly to Restaurant Ztráty a nálezy (Lost and Found). Just skirt around the building at the bottom of the lane to the right and you're on Široká Ulice with the restaurant two doors to your right.

Country kitchen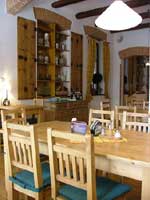 When you enter, you might feel as though you've stumbled into the kitchen of a country farmhouse. The furnishings are all natural wood, jars of coloured pastas, beans and seeds line the shelves and brightly chequered curtains and tablecloths add a burst of colour.
When you sit and look closer you'll also see strings of garlic, chillies and onions hanging up to dry, and old fashioned lights (the kind with a counterweight that you can pull up and down to adjust the height) over each table. There's even the sanded wooden torso of an old farm wagon suspended from the ceiling.

Potato Hot Pot
Potato hot-pots are the specialty here. Watch out for those ceramic bowls though; when they come out of the oven, they're hot! There are 15 different kinds on the menu. I chose the Capri, with chicken and tomatoes in a cheesy sauce. Delicious. And on the special lunch menu at 89Kč, also very good value.
Had I been there at dinner time, the same dish would have cost 119Kč. Almost everything on the menu is between 100-150Kč. There are a couple of things slightly cheaper and the fish and steak dishes are more expensive, but you should be able to eat quite well and have a drink or two for under 200Kč.

I had mineral water which cost 20Kč, but if you're in the mood for a large glass of beer with your meal, the Pilsner Urquell goes for 29Kč, Dark Kozel and Gambrinus are both 22 and the intriguing Master half-dark beer is 35Kč. They also do a good cup of coffee, with espresso going for 35Kč and cappucino for 40Kč.

Ztráty a nálezy is open from 11am to 11pm Monday to Thursday, 11am to 1am Friday and Saturday and on Sunday only from noon to 4pm.

Ztráty a nálezy nekuřácký restaurant
Široká ul.
460 01, Liberec
Tel. (+420) 485110721