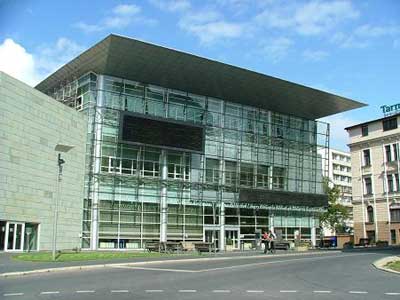 The Reconciliation Building
The reconciliation building one block north of Liberec's main square houses a synagogue and public library and is the fruit of a project begun by Czech and German presidents Havel and Herzog in 1995.
Site of the former synagogue
The reconciliation building stands on the site of the old synagogue that was burnt down on Kristallnacht (9 November) in 1938. The modern glass and steel construction incorporates a stone-walled triangular space that functions as a new synagogue for the Jewish community of Northern Bohemia. The triangle seems curious until you find out that it represents one half of the star of David. Flowing around the stone walls is a passage from the Torah, and the patterned paving outside traces the ground plan of the original synagogue.
Public research library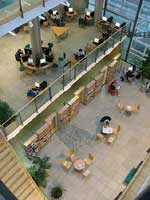 The public research library in Liberec takes up over 12,000 square metres spread across six floors. In addition to over a million books and 300 places to sit and read or write, there is a media library, children's area and at least 30 computers through which you can inexpensively access the internet. Unless you're carrying your own computer, in which case wi-fi access is free. A good place to use it is the small café corner inside the big plate glass windows that catch the morning sun.
Czech-German co-operation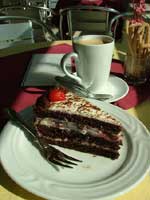 Funds for the building were contributed by the Czech (11 Million euros) EU (2 Million) and German ( 300,000 Euro) governments and the Czech-German Fund for the Future (825,000) and was officially opened on the anniversary of Kristallnacht in the year 2000.
The library is open from 8am to 7pm weekdays and from 9am to 1pm on Saturdays. For fans of modern architecture who have come to Liberec to see jested, the reconciliation building is a must. For everyone else, it's the most interesting modern building in central Liberec.
The cakes in the cafe aren't bad either.
Knihovna Liberec
Rumjancevova 1
46053 Liberec
Tel (+420) 482412111