Hanácká Hospoda
The Hanácká Hospoda is the best place to go for traditional local food from the Olomouc region. The unpretentious beer hall atmosphere, huge portions and low prices combine to make the Hospoda the best place in Olomouc, if not the whole of Moravia, for pub meals.
Ask for the English menu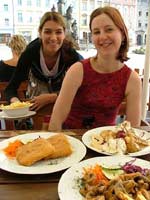 There's probably about enough space for 100 diners in the Hospoda's cavernous hall. Sometimes there are only two or three waiters trying to keep up with everything, so be prepared to order a drink and ask for the English menu at the first opportunity. You'll save yourself some time this way, because if they're busy and you send them away to get you a drink, send them away again to get you the English menu and send them another time while you think about what to order, it could take quite a while until your meal actually arrives in front of you. "Obviously" you say? Well, OK, just don't say I didn't warn you.
Old standards with a twist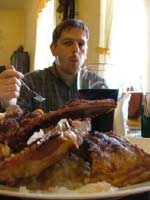 So what to order? The menu is divided up into sections. The first is ready meals, which is where you'll find the typical old standards like goulash, potato pancakes and vepřo-knedlo-zelí (pork-cabbage-dumplings), but all with a peculiarly Hanácká Hospoda twist. For example the potato pancakes here are called the Gossiping Aunt's potato pancakes. The pickled sausage, usually called Utopenec (drowned man) has been specified as Břetik the non-swimmer. (If you can prove that your name is Břetik and you can't swim, you get it for free)
Great soups
Then you'll come to the soups. The garlic and onion soups are especially strong, so if you're after something a little more subtle perhaps try the tomato or cabbage soups. The soups can all be ordered in a bread-bowl for an extra 40Kč. Vegetarians please note that the cabbage soup and garlic soup both contains small pieces of meat.
Stinky cheese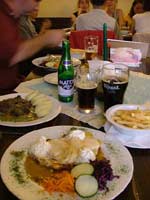 If you're after a real local Olomouc dining experience there's a particular cheese that's known across the republic as Olomoucké Tvarůžky. The most usual translation into English is Olomouc "stinky" cheese, which may give you some idea why the Hospoda menu offers "Two peppermints included. If you would like more, please do not ask. Better to write it down"
If you don't like ripe cheese or are not in a daring mood you might choose 'Three slices of Sirloin with three aromas' from the pork section of the menu. This is three pieces of pork individually flavoured with basil, curry and chilli. Delicious! (Not to be confused with the Steak for real Hana Men, which is three pieces of pork with three different kinds of pepper).
Chicken a-la-duck
The value award goes to Chicken like duck, which is half a roast chicken, basted with dark beer and served on a bed of cabbage with dumplings. 600 grams for 109 crowns. The most enigmatic of the chicken dishes is Krusčhev trochu jinak; (two big chicken fillets covered in a batter made from cornflakes) and from the beef section it's hard to go past the steak with ham and egg for 149Kč. Be aware that if you order this 'rare', it will come out dripping blood. You might want to jot down Krvavý, Střední, and Propečené, which are the Czech words for rare, medium and well done, respectively.
So that's the Hanácká Hospoda, home of possibly the best pub meals in the country. You absolutely must not leave Olomouc without eating here at least once.
Dobrou chut'
Hanácká Hospoda
Dolní náměstí 38
Olomouc
Tel. 582237186