Restaurant of Jazz Club Tibet
Jazz Club Tibet is a non-smoking music club, bar and restaurant in a long, narrow brick and stone building that was once part of the Olomouc's 17th century system of defensive walls.


Entry to the restaurant is from the Sokolská street side through the big double glass doors into the dining room. There's enough space in the main dining room for about fifty people to sit down, and on a mezzanine floor above the bar and kitchen, more space for at least another twenty.
The mismatched tables and chairs are all wooden and look good with the exposed floorboards and brick-coloured walls and barrel-vaulted ceiling.

Mains for less than 100Kč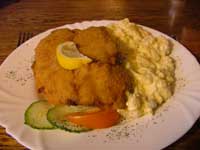 The restaurant serves meals six days a week from 11am to 10pm, and the menu offers dishes for reasonable prices. There are pastas ranging from 68 to 95Kč, chicken dishes from 90-100Kč and turkey dishes in the same price range. My favourites are the simple baked chicken cutlet with mushrooms and a cheese sauce for 93Kč, the turkey kebab with bacon onion and mushrooms and the grilled turkey steak with pepper sauce, both for 100Kč.

Vegie options
For vegetarians, there are a couple of options among the pastas and the usual range of meat-free dishes; fried mushrooms, baked broccoli in cheese sauce, risotto and three types of fried cheese including the local specialty, tvarůzky. If you're not strictly vegetarian but are looking for a light and healthy meal, there are also main course salads: 350 gram servings with tuna, cheese or chicken for 95Kč

Good beer
If you'd like a beer with your meal, the jazz club offers a good choice; on tap are Radegast (20Kč) Pilsner (30Kč) Černá Hora 11* (22Kč) and bottled beers include the unpasteurized Kvasar for 25Kč and an alcohol-free beer for the same price. Wine starts at 35Kč for a 320ml glass, all the usual soft drinks are on offer and coffee starts at 28Kč for a simple espresso and ranges up to 45Kč for a latté or 50Kč for an Irish coffee.

Good music
But as the name suggests, it's not all about food. Outside the summer and Christmas holidays there's at least one live concert each week, sometimes up to three or four. Not just jazz though. Everything from hip hop to funk to rock gets a chance on the stage here; the best way to find out what's coming up is to check the program guide on their official website.

Tickets for concerts range from 100-200Kč depending on who is playing, and it's not a huge venue, so if the band or performer is popular it's probably a good idea to get your tickets in advance. The big side doors are closed during concerts and entry is further along the street behind the bar, where there's a cloakroom. When you enter, you'll be given a slip of paper which is for the staff to mark your drinks on. You pay once at the end of the night and the doormen will check the slip for a "paid" stamp on your way out.

In addition to the cool space, tasty and healthy meals at good prices and smoke-free atmosphere another good thing about the jazz club is that, when there's no live performance, they tend to play good recorded music.
Tibet Jazz Club
Sokolská 48, Olomouc
(opposite Cinema Metropol)
Tel. (+420) 585 230 399