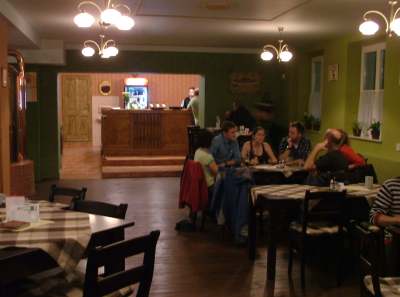 New Saint Wenceslas Brewery
St Wenceslas Microbrewery is back in a new location and now it's non-smoking.
The old microbrewery at Riegrova 22 was one of Olomouc's best places to try a good locally brewed unpasteurized pivo, but it surprisingly stopped serving its own brew and removed many of its seats and tables to make space for electronic gambling machines.
Apparently the original founders of the microbrewery decided it wasn't worth continuing when their landlord radically raised the rent and they started the search for a new location. A different company took over the lease at Riegrova 22 but without brewing expertise or equipment, they stocked a mediocre beer from North Bohemia and brought in slot machines to make the place pay.
New but original
'St Wenceslas Microbrewery' (Svatováclavský pivovar) was never trademarked so now there are two very different businesses bearing the same name. The one in the new location at Mariánská 4 that brews its own beer and is run by the founders of the first Microbrewery in Olomouc is distinguished by the suffix 'Original' and is the one we're concerned with here.
All the old beers are back
All the old beers are back. The 10 degree Vašek (25Kč) is the understudy to the stronger and more flavourful 12 degree St Wenceslas. Filling out the beer menu are 'Mr Brun's 13 degree dark beer' the wheat beer, cherry beer and honey beer (all 31-32Kč a pot) and 'Mr Jošt's half and half' (řezané) which goes for 28Kč (prices shown are for 500ml glasses and are correct as of May 22, 2010).
Classic beer hall ambience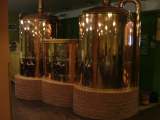 The new space is more open and lighter than the previous location and while the old murals were good, the current decoration gives a real old school beerhall ambience to the new St Wenceslas. The double copper boilers watch over the beerhall like a ship's bridge and for sunny days and cigarette smokers there's a lovely big outdoor seating area on the rear deck.
Nuclear brewing shelter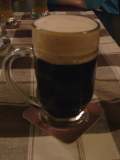 Perhaps the most interesting part of the brewery though is the part that isn't yet open. Beneath the restaurant floor is an old nuclear fallout shelter from the time of the cold war. It's already partly used by the brewer, and the remainder is under renovation to become a beer spa.
Beer spa opening autumn 2010
Spa-goers will bathe in one of eight large oak tubs filled with dark beer and a special mix of added herbs, and light beer will be served lest anybody be tempted by their bath water. The plans are for the spa to be operational sometime in the autumn of 2010 and there will also be a classic sauna.
Welcome back Saint Wenceslas!
Svatováclavský Pivovar Originál
Mariánská 4
585 207 517