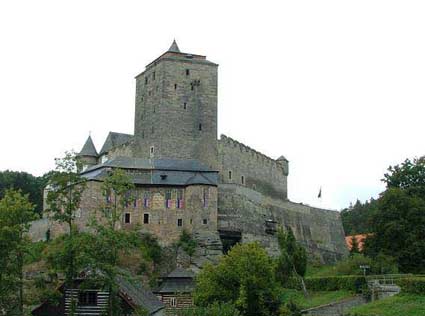 Kost Castle
Kost castle is an impressive and fascinating structure, but of the castles I visited in the Český ráj, I found it the least rewarding.
It's only accessible on a guided tour, you have to do two separate tours to see the whole castle and they're expensive. On top of that, there's a 100Kč surcharge if you want to take photographs. That means Kost will cost you up to 300Kč to do what you can do at Trosky for 40Kč and Valdštejn for 35Kč. Quite frankly, I'm not sure it's worth it.

I know not everyone will share my opinion though, so I'll tell you what I know about Kost castle and leave you to decide for yourself. If money is no object, you'll probably quite enjoy it. If that's the case and you find this website useful, I won't be embarrassed about accepting donations ;-)

Secluded valley setting
But back to the castle. One striking feature of Kost is that it's nestled down in a valley and you can hardly see it until you're almost on top of it. In this way, it's quite different to most of the other castles in the region, which have made use of high rocky locations to aid the defensive abilities of their fortresses.

The builders of Kost didn't neglect defence though; they just took a different approach. Their idea was that a highly visible castle in a prominent position was an obvious target for thieves and armies who wandered past. And they have a point; how can you attack a castle if you can't find it?

Unique lookout tower
And even for armies who did find Kost, it was still no easy target. Despite being tucked down into a valley it still manages to be on a rocky outcrop within that valley. The rest of the valley floor is either ponds or swampy land.
The construction of the castle was also very carefully planned with one eye on the directions from which attackers might approach. Which is why, from a particular point, it's possible to see all four corners of the main tower at once (a fact the guides and pamphlets are keen to highlight as one of Kost's special features).

Two one-hour tours
There are two separate tours of Kost; route one and route two. I chose route two because it was the one that looked more interesting and because the flashing electronic bulletin board in the ticket office told me that it was beginning in five minutes. Each route is 100Kč, but to do both will only set you back 170Kč. Not including the 100Kč surcharge for photographs or 200Kč to operate a video camera.

Another torture chamber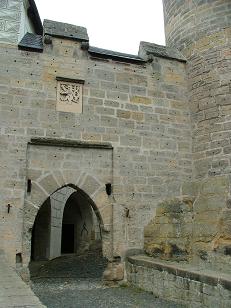 Route two beings in the first courtyard of the castle between the gothic and renaissance palaces. From there it moves indoors to a somewhat contrived torture exhibition in the gothic section. There's a guillotine, a rack, stocks wheels, thumbscrews, tongue twisters and all manner of ingenious implements for the infliction of humiliation, pain and death.

In most ways it was very similar to the torture chamber exhibitions that seem to spring up wherever there are enough tourists, perhaps just with a little more padding. The highlight was a bat which greeted us at the head of the stairs and proceeded to fly around the ground lights casting spooky shadows up on the ceiling. The little creature's superb theatrical timing was the highlight of the interior for me.

Czech guide, English text
After a peek into the old 'black kitchen' we continued around the grounds a little, and spent a long time talking about the tower. I had the English text but I also understood the bulk of the Czech commentary. When the guide speaks for 10 minutes about something that took you 30 seconds to read in the text, you might fell like you've missed out on a lot, but most of it was padding.

Cut the fluff, Mr Kinsky
I guess overall, especially if budget is not an issue, it's not such a bad place to visit. It just bothered me a bit that, by cutting the fluff, combining the two tours into one and dropping the surcharges for every little thing, it could have been so much more enjoyable, even if slightly less profitable for the owners, the aristocratic Kinsky family, in the short term.

Hrad Kost
Podkost 1-8
Tel. (+420) 493 571144