Trosky Castle
The twin towers of Trosky castle are one of the most recognisable symbols of the Český ráj.

Volcanic columns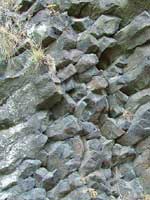 Trosky owes its distinctive shape to volcanic events in the Tertiary period and thousands of years of erosion.
Imagine an eruption the causes hot lava to force its way to the surface of the ground through two vertical chasms about eighty metres apart. When the force of the eruption eventually dissipates, the lava that is still in the chasms cools and solidifies.
Then over thousands of years, the soft surrounding soil erodes and gets washed away, leaving two columns of basalt pointing towards the sky.

The Swedes are coming

On two columns just like that, a nobleman named Čenek of Vartemberk constructed a castle between 1380 and 1390. Like most castles it changed owners several times throughout the centuries, and during the thirty years war, fell into the hands of the powerful aristocrat and general, Albrecht of Valdštejn.
In the final year of the war, 1648, the castle was attacked by Swedish troops and caught fire. It was abandoned and laid in ruins until the 20th century, when restoration work began.

The maiden and the hag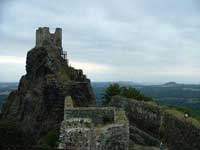 The towers are nicknamed the maiden and the hag. Predictably, the hag is the shorter and squatter of the two, while the maiden is the taller and more slender.

You can climb both towers. There's a viewing platform at the maiden's rocky base, but the hag's staircases go all the way to the top. I'm sure you can imagine how spectacular the views are.

Trosky Castle
51263 Rovensko pod Troskami
Tel (+420) 481 313925