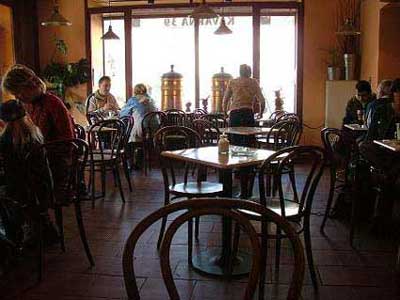 Restaurant Divá Bára & Cafe 39
Restaurant Divá Bára and Kavárna 39 are popular places side by side on a busy corner just off the main square of Jičín through the Valdice gate tower.

Perfect people watching


Kavárna 39 is a good place for coffee and cake and occupies the tip of the street corner just outside the old gothic town gate tower. A seat beside one of the big display windows is the perfect place for a spot of people-watching. If the weather is good there's also an outdoor seating area with eight or ten tables and fresher air than the somewhat smoky interior.

Coffee and cake
The café serves all the standard drinks and more. Prices range from 22Kč for a plain espresso, 37 for a cappuccino and up to 55Kč for an Iced Irish coffee. The selection of cakes is also quite good. As you enter you need to make your selection from the display case as the cakes and slices are not described on the menu.

When your order arrives at your table, you'll also receive a small numbered tag with a Czech inscription meaning "please present at counter when leaving".
The menu is also only in Czech, but the coffees are all listed by their Italian names, so it shouldn't be too hard to work out even if you've left your phrasebook in your room.

Wild Barbara's Restaurant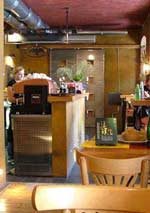 The entrance to Restaurant Divá Bára is around the corner, but the two businesses are run by the same people and the washroom facilities are shared.
The long, narrow space has been very well renovated. Exposed brick, polished floorboards and deep-red upholstery create a warm atmosphere and there's even an inbuilt aquarium. Windows lining the long side of the restaurant keep it bright and offer the same views as from the adjacent café. Unlike the café, the restaurant is a completely non-smoking space.

Fresh food, good service, no smoke


I had fried cheese which is always a safe choice. The side potatoes were perfectly cooked and the tartare sauce and garnish had obviously been freshly prepared. Divá Bára is not the cheapest place in town, but there are some budget friendly options on the menu, including Svičkova for 89Kč, sandwiches, hamburgers and three or four pasta dishes for under 100Kč. The service was also very good.

Restaurant Divá Bára would be worth recommending either for its non-smoking policy or for its good food and service.
The fact that they offer both makes them an obvious first choice for a meal in Jičín.

Restaurant Divá Bára and Kavárna 39
Husova 39, Jičín
Tel. 493 524887