Turnov
While it may not be as immediately appealing as Jičín or as quaint as Malá Skála, Turnov is the most practical base for anyone who plans to spend their time in the Český ráj getting out and about to the different rock towns, castles and chateaux.
Close to the castles and rock formations
The Hrubá Skála chateau and rock formations are 7 km to the south, Valdštejn, Kost and Trosky castles are closer to Turnov than to the other main towns and if you strike bad weather or just find yourself in the mood for an afternoon of café and restaurant hopping, Jičín is a short and inexpensive train ride away.

Historic old town
Turnov does have a certain charm of its own though. If you arrive at Turnov Město train station, the walk into town will lead you past the remains of an old Jewish cemetery, part of it now under the cover of a somewhat insensitive 20th century road bridge.
Crossing the main intersection and continuing straight then brings you to the narrow streets, tall houses and church spires of the old historic centre.
Churches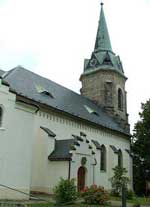 The three main churches in town are the baroque churches of St Francis of Assisi and St Nicholas, and the sombre Church of the Virgin Mary, which is one of the oldest and largest neo-gothic churches in central Europe.
Turnov's main square is also quite pleasant, despite the presence of a fairly busy road that passes through. There are a handful of impressive buildings, a supermarket, three or four restaurants including the very good pizzeria of the Hotel Korunní Princ, and the helpful tourist information office.
Exhibits of precious gemstones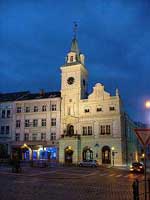 Not far from the main square is the Museum of the Bohemian Paradise (Muzeum Českého ráje).
The Turnov area is renowned for its precious gemstones and the most interesting exhibits in the museum are to do with the local geology.
There's also a school of artistic metalwork and jewellery design in town and the local garnets are famous across the Czech lands and abroad.