Café Elefant
Café Elefant is an elegant café in the Viennese style halfway along of the boulevard that runs beside the river through the spa-end of town. If you've come to Karlovy Vary seeking opulence and stylish escapism this is a reasonable place to find it. They have good cakes too.
Gold and chandeliers
The ground floor is one large open room decorated in muted green and cream with chandeliers, huge mirrors, richly patterned wallpaper, and thick golden mouldings around all and sundry. They also have not one, but two nice terrace areas out on the pedestrian boulevard. If you're only on a short visit to Karlovy Vary and want to get in some good people watching, this is a reliable place to see the best and worst of Russian and German leisure-fashion for the middle aged.
While Russians and Germans are the traditional visitors to Karlovy Vary, when I last visited there were also big groups of Americans (they're the ones with the baseball caps) Spanish (following tour guides talking into headset amplifiers) and Dutch (given away by their guidebooks to Tschechije)
It's in books so it must be good
Apparently Café Elefant is recommended by the Dutch guidebooks and it's in the Lonely Planet. It was also the one name I could drag out of the guy at tourist information when I asked about the best coffee in town. "It's in lots of books so it must be good" The Elefant has certainly had plenty of time to make its way into the guidebooks. It was a café already in Goethe's time and was the location for a political meeting between František Palacký and Karel Havliček Borovský in 1849.
Where's the cake?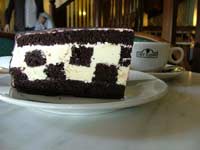 But enough history, where's the cake? Well, it's in a big cabinet right in front of you as you enter, actually. Its worth peeking into the cabinet before you choose a seat, as the cakes and their prices are not included on the menu. I chose the chessboard torte (šachovy dort) for 60Kč, but almost went with my old favourite Sacher torte for 55Kč. My espresso with milk set me back 55Kč, and if I'd chosen a mineral water it would have been the same sum. For the hungry, toasted sandwiches range from 80 to 140Kč which doesn't seem like such good value when you can get a full meal and a drink for the same amount just across the river at U Křižovníků.
For the slightly steep prices though, you not only get good coffee and great people watching, you also get help with your vocabulary. From the animal sculptures in the café you might think that Elefant is the Czech spelling of elephant, and you'd be partly right. Karlovy Vary and the rest of the Czech lands were part of the Austrian empire when the café was opened, so now you know one more word of German than you did before.
Café Elefant
Stará Louka 30
36021 Karlovy Vary
Tel. 353222544