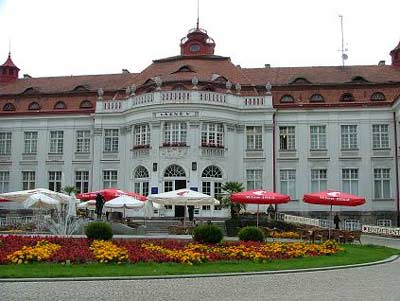 Elizabeth's spa
If you'd like your visit to Karlovy Vary to include not just sightseeing, but actual getting in the waters to see if it has any benefit for your health, then Elizabeth's Spa (Spa 5) is a good place to begin.
Swim, spa, sauna
The most accessible activity is a simple swim in the 25m heated pool. The entrance is at the rear of the building and the reception desk is right inside the door. A combined ticket for the swimming pool, relaxation pool, sauna and steam room (para) costs 50Kč for 30mins, 90Kč for an hour and 120Kč for 90mins.
Children shorter than 140cm get in for almost nothing, but there's no discount for students. There are slight discounts if you only want to swim or only want to use the sauna and so on, but if it's your first visit to the spa, you shouldn't worry about saving 10 or 20Kč. Just buy the combined ticket. This will also eliminate the possibility of getting in trouble for mistakenly walking into a room that you haven't paid for.
Pay first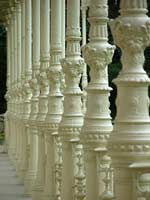 The procedure is to nominate how long you would like to use the facilities and pay in advance. You'll also need to pay 100Kč as a key deposit for your locker. Presumably they would also use this money should you overstay your time. Your numbered key gives you access to a full-sized locker in the change rooms, and is cleverly attached to a plastic watch-band so that you can keep it with you through all the activities.
The swimming pool and relaxation pool are for everybody, but the saunas are separated by gender, and you remove your clothing before entering. There are actually big signs with a cross through a pair of swimming briefs that kind of struck me as funny but I don't have a photo because my camera was safely locked up back in the change room.
Come prepared
It's not possible to rent towels at the spa. As well as a towel and your swimming trunks, you should also bring a plastic bag for storing wet items and because shoes must be removed in the change rooms, a pair of cheap plastic sandals could be handy too. These items are listed here because I know they'll be forgotten by certain people, because I am one of them. Luckily for me, the weather wasn't so good at the time and my raincoat has waterproof pockets;-)
Room for rest
Signs in the complex are in four languages; Czech, German, Russian and English. There's one room called Odpočivarna in Czech and Rest Room in English. If you're from a country that uses the phrase "rest room" as a euphemism for "toilet", take note; you're not at home now and this room is not for peeing! This rest room is a place for resting-there are wooden lounge chairs to lay back, stretch out and take a break from the sauna or the laps that you've been swimming.
Let us eat cake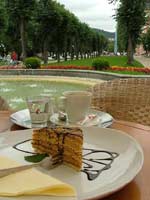 If all this has given you an appetite, there's also a restaurant around the front of the building with a very pleasant outdoor area offering a view along the main alley of Smetana gardens. The prices for drinks are quite reasonable; Espresso is 30Kč, cappuccino is 38Kč, and Marlenka is 45. Meals are a little pricier, with goulash and Vepro-Knedlo-Zeli each coming in at 149Kč. Spa 5 is open 9am to 9pm daily except on Sunday, when it closes at 6pm.
Alžbětiny lázně
Spa 5
Smetanovy Sady 1
36001 Karlovy Vary
Tel. 353 222536