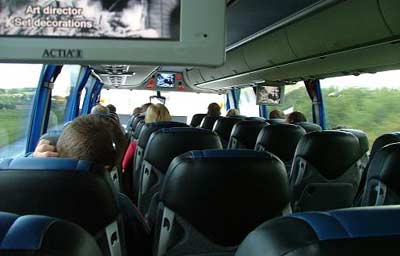 Karlovy Vary is in Western Bohemia, just 15km from the Czech Republic's border with Germany at Boží Dar. Transport connections are good from Prague, but kind of painful from anywhere else.
From Prague, the best way to get to Karlovy Vary is by bus. Student Agency and Asiana both use the latest model buses to run frequent direct services to and from Karlovy Vary. The fare varies from 110Kč to 140Kč and the 132km trip takes 2hrs 15min.
From Germany you'll have to change trains at Cheb, from where buses and trains travel the 50km to Karlovy Vary in about 50minutes.
From Český Krumlov you can travel either via Plzeň or Prague. The 246km trip via Plzeň (Pilsen) involves at least three buses or trains and takes at least 5 hours. Theoretically you can go from Krumlov to Prague on a direct bus and from there to Karlovy Vary, which is only one change. The disadvantage of this route is that there's always a metro trip to take and it's 60km longer than via Plzeň.
From Kutná Hora (4hrs 212km), Telč (5hrs 280km) or Olomouc (5hrs 383km), it's best to make your way to Prague and change to a Student Agency or Asiana bus there.
Karlovy Vary itself is a long, narrow town nestled inside a steep-sided river valley. The bus and train stations are an easy but uninspiring 30min walk from the Vřídelní colonnade that marks the epicentre of town. Local buses 1, 2, and 11 (10Kč ticket) travel to the centre of Karlovy Vary from the Tržnice bus station, which is probably the first stop your long distance bus will make in town.
If you'd prefer to take a Taxi, call 777 125 435, or 606 462580