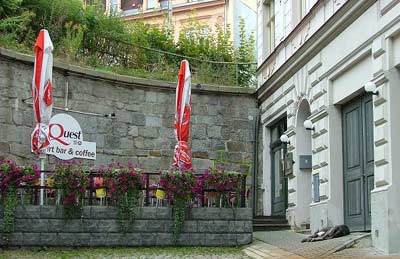 Quest hostel and Apartments
Quest hostel offers easily the best value accommodation in the centre of Karlovy Vary. You'll find it tucked around a corner at the end of Moravská Ul, a short uphill walk from the Church of Mary Magdalene in the spa end of the town.
Free breakfast, friendly staff
Reception is in the cafe on the ground floor and this is also where the complimentary breakfast is served in the mornings from 8.30 to 10am. The staff are quite friendly and sorted out a mix-up with my reservation (my fault) quickly and graciously. It's a pity they don't have a chance to interact more with the guests, because I'm sure they have some good information and insights about Karlovy Vary to share. No suggestions are offered during check-in, but if you ask, they're happy to help if they can. Apart from that, the hostel has been set up to be very much a "here are your keys, your room is up those stairs" kind of place.
Modern rooms
The rooms themselves vary in size, with the large ten-bed dorms being the cheapest at 410Kč per person. As the rooms get smaller, they also get progressively more expensive per person up to 980Kč for a double and 580Kč for a single. The building has been recently renovated and most of the floors are carpeted which helps to keep it quiet. The bathroom and kitchen facilities are generous, modern and spotlessly clean. You have to make your own beds, but linen and towels are included in the price.
Ensuite bathrooms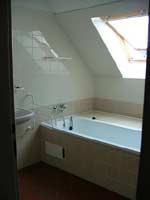 Each of the rooms appears to have formerly been a rental apartment, as they all have their own bathroom, toilet and full-sized kitchen attached. On the first night I had my apartment entirely to myself and it started to seem that the higher than average price was a bargain. On the second night when a group of rain-soaked cyclists invaded it didn't seem like such good value, but that's the chance you take with dorms, I guess.
Cool café
The little café on the ground floor functions as something of a common room for the hostel. Drinks and snacks are available at reasonable prices (cheap by KV standards) and there are table football and darts provided. Unfortunately there appears to be no non-smoking area. If the weather is good there's a small terrace out in front, that would be lovely on a sunny morning. The coffee is pretty good, especially for 25Kč. They have three varieties of Budweiser on tap for 28Kč/half litre and the toasted sandwiches for 35Kč are just the thing for quick snack.
The hostel was known as Titty Twister in 2006 and Buena Vista in 2005, so it's anybody's guess what it will be called by the time you're reading this. In any case, it's likely to be your best bet for budget accommodation in Karlovy Vary. Especially if you don't have to share with a big group of cyclists.
Quest Hostel and Apartments
Moravská 44
Karlovy Vary
Tel. 353 239071