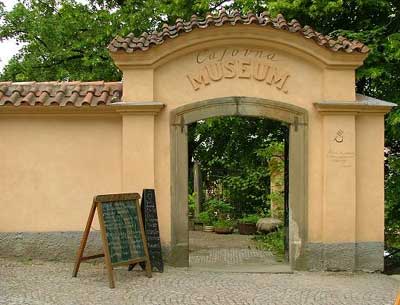 Teahouse in the Museum
There's a cute little teahouse in one end of the museum building, just below the chateau and beside the Piarist church. The entrance is through a small courtyard, which in the good weather will be strewn with chairs and tables, colourful cushions and even an old wooden bed that has earned a second bout of usefulness as a sofa.
The teahouse proper is one room of pleasantly colourful clutter. There are piles of books and magazines, a wall of posters and fliers about different cultural events in Litomyšl, pleasantly mismatched old furniture and possibly a generous smattering of the owner's friends.
Tranquilly tittilating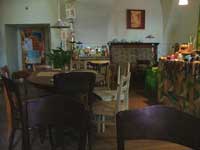 Depending on who and how many people are there, the atmosphere can range from the tranquility of a Buddhist monastery to the hubbub of a living room full of teenagers. Even if you feel as though you've walked into a private party, you'll soon be ignored and thus made feel welcome. Whatever the atmosphere, don't expect speedy service. Teahouse tea is meant to be savoured at a relaxed pace and they don't spoil the rhythm by rushing you to choose your drinks or to pay at the end.
Meet Roger the dodger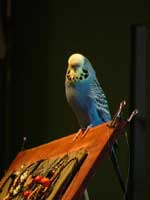 Most of the staff, that is. The smallest member is named Roger, and he can be a little forward; you may not even have chosen your tea, and he will flitter over to your table and chirp "would you like to pay?" You might even be having a whispered conversation or not be talking at all and he will screech "Quiet! Be quiet you rascal!"
Czech waiters have long had a reputation for abruptness, but that's just downright rude isn't it? Well technically Roger's not Czech, he's more like an expat Australian, and the reason that most people choose to forgive his poor manners is that he's an energetic, otherwise quite sociable young male budgerigar.
200 teas to choose from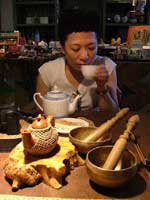 There are more than 200 types of tea and the house specialties include sahlep, Ayurvedic coffee, saki, honey-wine and Bedřich Smetana tea, which has a chocolatey flavour. There are also ceramic tea sets, textiles from India and Pakistan, and a selection of handmade jewellery from local craftspeople for sale. It's also possible to purchase many of the teas on the menu by the bag (assuming your hotel or Pension room has kitchen facilities).
The posted opening hours of the Teahouse in the Museum /Čajovna v muzeu are from 10am to 10pm on weekdays and from 2pm to 10pm on weekends. If need be, you can text message or call to make a reservation on (+420) 604737483.
Hopefully it won't be Roger who answers, because his phone manner probably leaves a lot to be desired.
Teahouse at the museum / Čajovna v muzeu
Jiráskova 9
Tel. (+420) 604737483